A PHOTO OF THE BETHANY BAPTIST CHURCH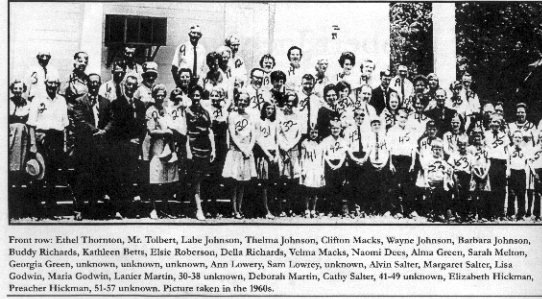 The photo is believed to be taken in the 1960s. Front row: Ethel Thornton, Mr. Tolbert, Labe Johnson, Thelma Johnson, cClifton Macks, Wayne Johnson, Barbara Johnson, Buddy richards, Kathleen Betts, Elsie Roberson, Della Richards, Velma Macks, Naomi Dees, Alma Green, Sarah Melton, Georgia Green, unknown, unknown, unknown, Ann Lowery, unknown, Alvin Salter, Margaret Salter, Lisa Godwin, Maria Godwin, Lanier Martin, 30-38 unknown, Deborah Martin, Cathy Salterm 41-49 unknown, Elizabeth Hickman, Preacher Hickman, 51-57 unknown.
Photos provided by the Monroe County Heriage Museums:Burnt Corn and it appears on page 18 of the Museum's booklet:Legacy: featuring "The Legacy of Burnt Corn."