PRESIDENTIAL BIRDS FROM BURNT CORN


The Joe McCarter Story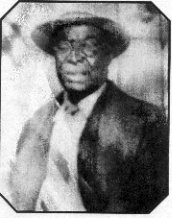 Interview by Kathy McCoy with Fannie McCarter at the McCarter homestead, November 5, 1997
Allen McCarter's son, Joe, stayed in Burnt Corn and built the home his daughter, Fannie, lives in today. Joe was a farmer and rancher, who also raised wild game, including pheasant, quail and turkey. In 1943, he dediced to send one of his turkeys to Washington, D.C. to a man he admired, President Franklin Roosevelt, The President and Mrs. Roosevelt expressed appreciation in a letter, through his press secretary, Grace Tully, dated November 11, 1943.
Joe McCarter is mentioned in President Roosevelt's son, Elloitt Roosevelt's, biography of his father, "As He Saw It." Elliott quotes his father as saying, "Can you imagine how surprised Joe will be when he finds out how far his bird was flown before it was eaten."
Joe also sent "birds" to Eisenhower and Kennedy.
His daughter Fannie left Burnt Corn and lived and worked in Detroit for the Hudson Automobile Company for 20 years. When her father passed in the early 1960s, Fannie came home. She was not an experienced farmer or rancher and decided to become a "paperwooder." Soon she had brought a truck and convinced Mr. Sam Lowery, Jr. that she "could do it."
For the next 15 years Fannie and her crew of workers cut and stacked short ends of wood. After she began her operation, "all the women started paper-wooden too. I remember one woman with five kids from Owassaa who started in the woods. Well one day she was cutting wood and forgot to block her truck. Next thing you knew, that truck was gone, rolling down the hill. It was a brand new truck, too."
Fannie travels to visit her family who live in Detroit and other places today. They also come to visit the house that Joe McCarter built.