BURNT CORN MEDTHODIST CHURCH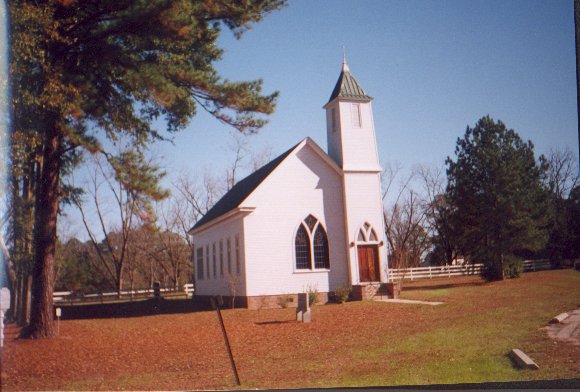 The Burnt Corn Methodist Church was organized in 1908. The congregation met in the Kyser-Betts Store until the building was finished. Evelyn Lowery, the wife of Samual (Sam) Lowery was a faithfully member of this church.
In 1913, some members of the Puryearville Methodist Church organized the Burnt Corn Methodist churc miles northeast of the Puryearville church. The land was donated and the plans for the church were made by James K. Kyser and his wife, Cora Betts Kyser. The Rev. D.F. Ellisor was the first pastor of this new church. A service was held in the Masonic Hall shortly before the church was completed and a large number of children and young people joined the Church. The first service held in the new church was on the third Sunday in June 1913.
When Rev. Ellisor later left Burn Corn for another appointment, a silver loving cup was presented to him. Years later his descendant Rev. Tom Ellisor said that the cup was in their home and that they cherish it.
Rev. Franklin S. Moseley was the pastor from 1928 to 1930. A short history of the church was written Moseley in the 1940s and he related that there were many beautiful programs presented under the leadership of Mrs. Kyser. As was true of most rural churches, the Burnt Corn Methodist Church became the center of social life for the young people of the community.
According to Rev. Moseley's account, some of the early members of the church were Kysers, Betts, Brantleys, Mosleys, Salters, Northcutts, Grahams, Fountains, Culbreaths, Harpers, Shofners, Ellises, Days, Greens, Lowreys, and many more.
There are four graves next to this church: Cora Betts Kyser (with the entire 23rd Psalm on her tomb), James Keathly Kyser, Robert L. Mosley, and Mabel C. Mosley. Most of the members of this church apparently continued to use the Puryearville Cemetery.
Pastors who served the Burnt Corn Methodist Church from 1913 to 1943 were: D. Frank Ellisor (1913 A. Williams (1915-1919), A.E. Shafer (1919 Cowan (1920-1921), Edward E. Cowan (1921 May (1925-1926), Edgar A. Howell (1926 S. Moseley (1928-1930), Cecil M. Ellisor (1930 Vanlandingham (1931-1934), Wallace G. Barnes (1934 1937), Gerald L. KIng (1937-1939), Nathan R. Blocker (1939-1941), and Samuel E. Hudgens (1941 -1943).
Based on information in the AWF Archives, the Burnt Corn Methodist Church was probably closed circa 1960. The church building is still there and is a beautiful example of rural Methodist church architecture.
Sources for this article included the Alabama Christian Advocate, September 15, 1915; History of Conecuh; Alabama Historic Highway Markers; Burnt Corn Methodist Church Moseley, Eutaw, Alabama; and Findagrave.com the Alabama-West Florida Conference Archive