NELLIE (LEE) MARSHALL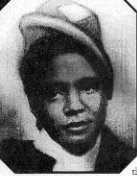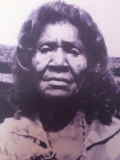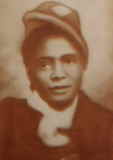 Nellie was born March 4, 1864 while her mother Fannie Lee was still a slave. Nellie (Lee) Marshall is considered the "Mother" of the Marshall family. Nellie is the daughter of a slave named Fannie Lee. Nellie met and married George Marshall and they moved to Flat Creek, Alabama and live there for a short time before moving back to Burnt Corn. Their first house was just on the out skirts of Burnt Corn not far from the Robinson Store that sit on the Federal Road sometime called on Old Stage Road. just across from the Robertson Gristmill.
The white people of Burnt Corn thought that was too close to them and forced them to move. They then moved into a house farther up and off the road in another house that where they made home. The house is still standing as it looks today. It said that Mr. Ellis purchased the house from the Marshalls. George and Nellie had 11 children as follow:

Irene
Carlie
Johnnie
Roberta
Rosie Lee
Annie Coleman
James "Jimmy"
Nellie
George W. Jr.
Margaret "Maggie"
Pauline
Nellie learned to read, write and do arithmetic while her mother Fannie worked at the Boarding House while she playing with the Boarding House owner grandkids who taught her to read and write. While a teenager, Nellie passed the teacher's exam and was certified to teach in Alabama. With her earning as a teacher she brought five acres of land.
Nellie also had a brother name Allen McCarter, who along with their mother Fannie had been sold to Enoch Salter of Green Street area of Burnt Corn.
Fannie was sold for $2000 and Allen was sold for $200.00.
Allen had a son named Joe McCarter that later as an adult sent Turkeys to the President of the United States on Thanksgiving. Allen also had a daughter named Fannie Mae
Nellie died February 2, 1963 at the ripe old age of 99.